30th to 31st Mar 2023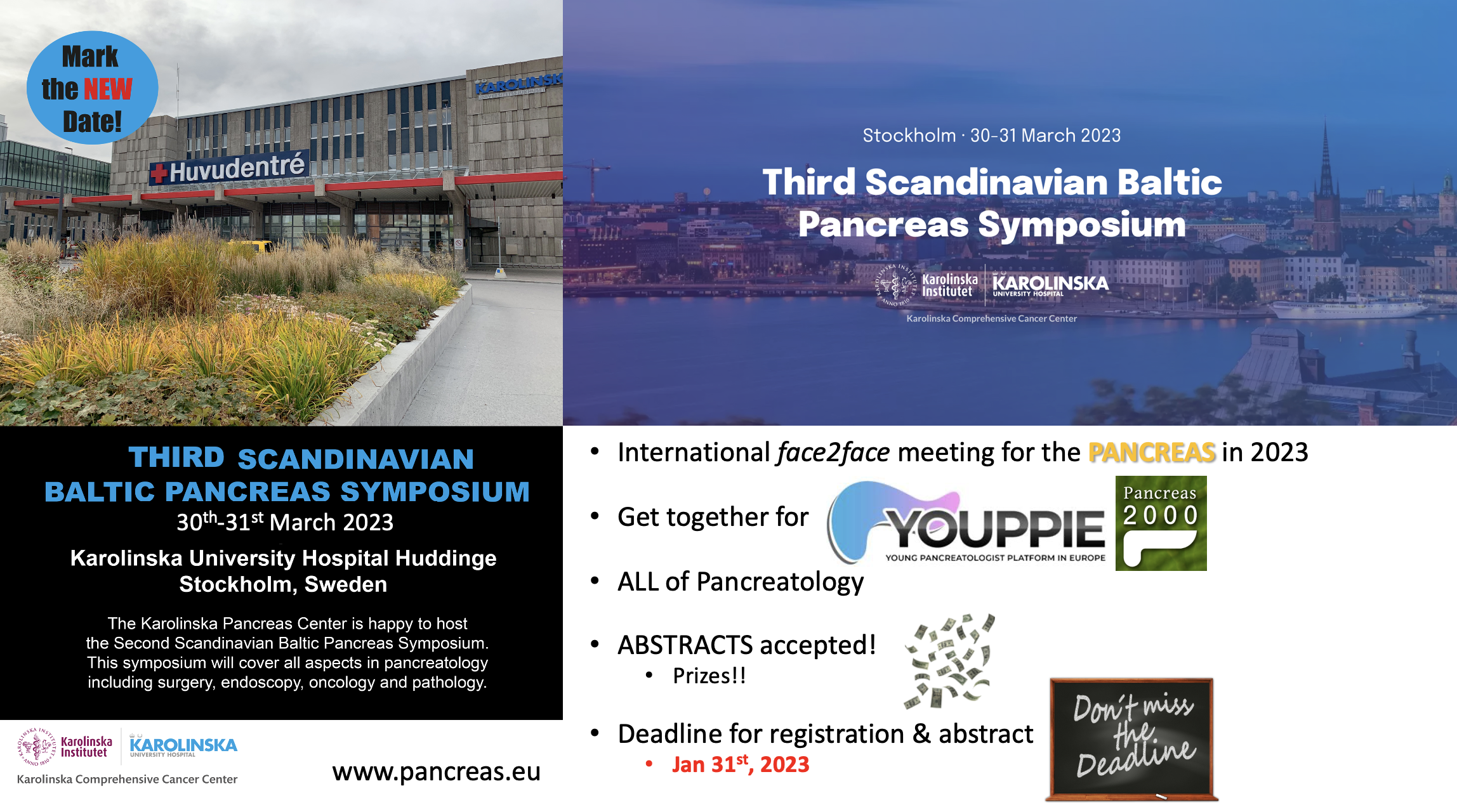 Mark the dates of March 30th to 31st, 2023 in your calendar for some interesting days in Stockholm.
The Scandinavian Baltic Pancreatic Club Forum of Excellence is a forum for physicians from the Scandinavian and Baltic countries with specific scientific and clinical knowledge on pancreatic diseases.The forum was established in 2012 with the purpose to develop a scientific working group across borders improving the understanding of the complex mechanisms underlying chronic pancreatitis.

The specialists in the working group comes from Denmark, Norway, Sweden, Finland, Lithuania, Latvia and Russia, representing highly scientifically active centers in the different countries.
In 2016, the forum established a prospective database for patients with chronic pancreatitis, which by now is one of the largest prospective databases on this patient population in the world. Several highly ranked and already widely cited publications originate from this initiative.
The 1st Scandinavian Baltic Pancreas Symposium was held in Kolding, Denmark, in September 2019 and was a very successful event.

The Karolinska Pancreas Center in cooperation with Scandinavian Baltic Pancreatic Club Forum of Excellence is now announcing the 3rd Scandinavian Baltic Pancreas Symposium to be held in Stockholm in March 2023 where all aspects of benign and malignant pancreatic diseases will be covered, with special focus on chronic as well as autoimmune pancreatitis, cystic pancreatic tumors and pancreatic cancer.
The symposium will be hosted by the Karolinska University Hospital in Huddinge over two days.
A course for younger doctors (e.g. residents) will be given during the first day with the next two days will focus on attendees from different specialist backgrounds (gastroenterologists, pediatricians, surgeons, oncologists, radiologists) with state-of-the-art lectures, live endoscopy sessions and breakout sessions.

Current topics in pancreatic diseases will be discussed between participants and leading experts in the field of pancreatology.

We expect in excess of 200 participants from all of Northern Europe and would like to invite sponsors to exhibit and meet with our speakers as well as the attendees during the symposium.